Press Kit for Mark Maxwell
Saxophonist, composer, performer, and recording artist Mark Maxwell has recorded 22 CDs, has sold over 500,000 units, has streamed over 25,000,000 times, and is a delightful and versatile performer and entertainer.
For promotional copies of our CDs, please
contact us
or call (800) 627-5629. 
---
Bio Sheet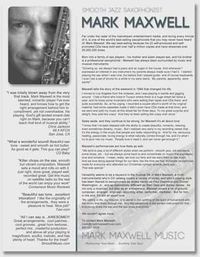 Mark Maxwell Bio.pdf
Promo Photos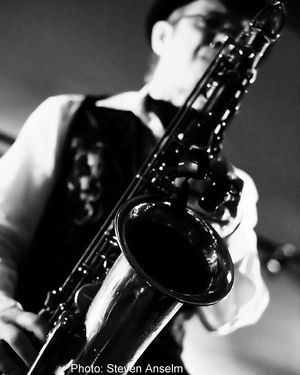 Hi-res.tif
Lo-res.jpg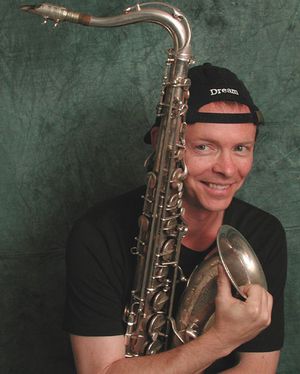 Hi-res.tif
Lo-res.jpg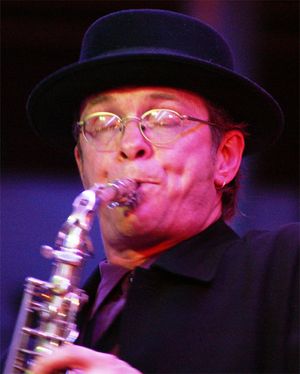 Hi-res.tif
Lo-res.jpg
"I am still reeling from last night. I have heard nothing but positive and glowing comments about the show. That was one of the most enjoyable nights of music that I have had since I saw BB King (1976) in a little 100 seat club in Southern California. Seriously, the band hit on all twelve cylinders. Oldsters and youngsters alike were amazed with the musicianship that they witnessed. Mark, you are truly blessed, not only with your music, but with your ability to touch the hearts and souls of so many individuals with your sincerity and obvious love for humankind. You were obviously in your element."  ~
Marvin Edens, Rancho Murieta, CA
"Mark, when you played your sax at our table I thought my wife was going to faint with delight. Thanks so much for sharing your talent with us!"  ~
John and Mary Beckwith, Sacramento, CA
"My number one favorite thing about your performance was the personal feeling that was communicated. Yes, the feeling of comfort and appreciation that you offered was tops, (second only to your music !!!)."  ~
Robbi and Jim Niesen, Encinitas, CA
"I must say that we were very taken with your stage presence and your delightful personality! Thanks very much for the opportunity to meet you and to listen to your music."  ~
Lory and Dave Gorman., Palm Springs, CA
"We loved hearing you on the Mexico cruise!Your music is really from your heart, and it shows in every piece you did. "-Carmy Sherman, Long Beach, CA "Man, you blew our minds! Keep playing that sax and we'll keep coming to see you!"  ~
Suzanne & Dave Lennox, Glendale, CAMore testimonials...