Posted by Mark Maxwell on Oct 13, 2010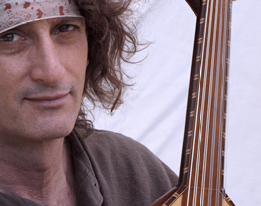 My friend, Richard Searles, is a interesting guy and a remarkable musician. Not only is he an excellent guitarist, but the music he records is both fascinating and superb.  Here's his bio:
The music of Richard Searles blends elements of Celtic, Renaissance and World Music styles using both traditional and modern instruments to create a sound at once soothing and evocative.

Primarily a guitarist, Searles developed a keen ear for the enticing sounds of the world's many musical styles through travels to Great Britain, Africa, Asia and the Middle East. While studying classical guitar, he was first exposed to Medieval and Renaissance music through the recordings of David Munrow and Paul Odette. These experiences, along with an appreciation for the inherent beauty of the sounds and rhythms of the Earth, are the continuing influences on his music.

While most of Searles' compositions revolve around the guitar, it is the mixture of instruments that defines his style. Using harpsichord and tabla together and joining synthesized and environmental sounds with classical guitar result in combinations that are not exactly traditional. In the context of his music, however, the unorthodox mix of East and West, Ancient and Modern helps to transport the listener into new realms bound only by the imagination.

When listening to his music, one can feel a concern for the planet and an awareness of the dangers to life in a shrinking world. But there is also a sense of hope and a positive life energy that balances these concerns. In a world facing complex and overwhelming difficulty, his music creates an atmosphere of calm, peace and understanding.
Here's what Richard has to say:
"My style is an instrumental blend of Renaissance/Medieval, World and New Age music. In that context, I've recorded albums of original music (Magical Creatures, The Green Man, Ancient Isles, Earth Quest), music from the Medieval and Renaissance periods (Dance of the Renaissance, Dream of the Troubadour, Scarborough Faire, Jongleurs Dance), and early Celtic music (Celtic Cross, Emerald Castles).

While my main background is Classical Guitar, I also play Recorders, Hammered Dulcimer and Concertina. The albums usually have an ensemble sound with additional musicians on Harpsichord, Woodwinds, Strings and Percussion.

The recordings are now available as digital downloads from iTunes and on CD from Amazon.com as well as from my own website www.earthdancemusic.com."
If you enjoy Celtic music, or would like to hear some as it should be played, check out Richard's music. You'll love it!
Comments are closed.